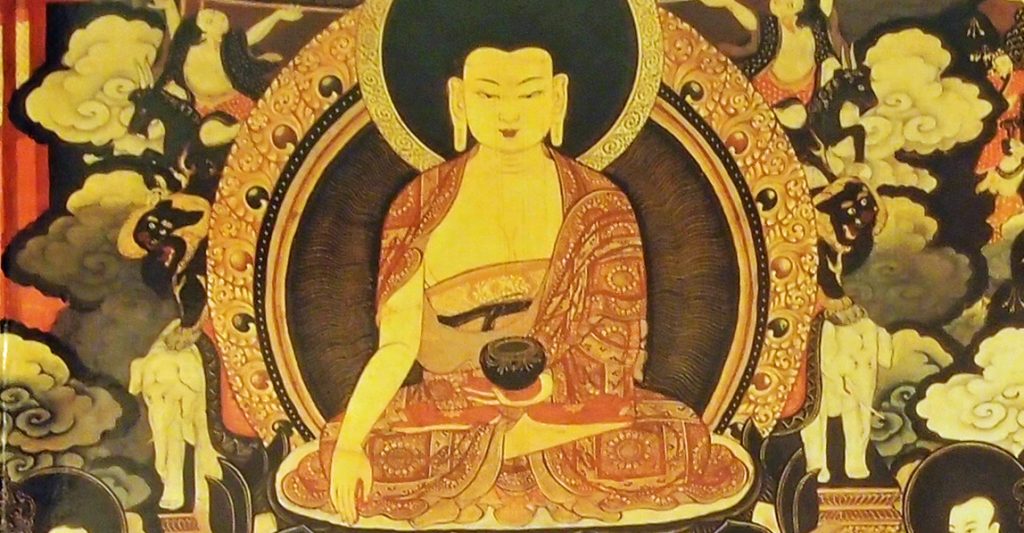 Introduction
According to Wikipedia, "Buddhism is an Indian religion and dharma that encompasses a variety of traditions, beliefs and spiritual practices largely based on teachings attributed to the Buddha. Buddhism originated in Ancient India sometime between the 6th and 4th centuries BCE, from where it spread through much of Asia, whereafter it declined in India during the middle ages. Two major extant branches of Buddhism are generally recognized by scholars: Theravada (Pali: "The School of the Elders") and Mahayana (Sanskrit: "The Great Vehicle"). Buddhism is the world's fourth-largest religion, with over 500 million followers or 7% of the global population, known as Buddhists.
"Buddhist schools vary on the exact nature of the path to liberation, the importance and canonicity of various teachings and scriptures, and especially their respective practices."[https://en.wikipedia.org/wiki/Buddhism]
In what follows, I'll be citing Wikipedia quite a bit (though, not exclusively). The main reason is that it's convenient. I could easily cite other encyclopedias and reference books that cover the same information, but that would require readers to make trips to the library or bookstore to review them. Some may ask why I don't cite this or that particular Buddhist website instead. I do in one case below, but mainly the reason is that many of them may only present one interpretation or tradition of Buddhism while Wikipedia at least attempts to cover it as objectively as possible as a result of a collaboration of perspectives rather than one in particular. There are clearly a number of different interpretations or traditions of what I'm about to cover. I'm sure people from different traditions may take issue with some of the things I say below, even when I'm covering the most general and basic bits of information. That only goes to show how many different traditions and interpretations there are.
Justifiable or not, Buddhism seems to get more of a pass from the secular community than most other religions. Of course, some say it is an atheistic religion, and you can find people who will argue that it is a philosophy and not a religion at all.
The problem is that it may depend on how you define "religion," along with the fact it seems different people all over the world have different ideas in mind about what "Buddhism" actually is, with each of them claiming their version is more accurate or more "original" [Just like various sects of Islam and Christianity who argue their tradition is the only "True" one.]
The difficulty with this is that the traditions were passed down orally for hundreds of years (~400 to 500 years) before anything was written down. Anyone who has played the game "telephone" should be familiar with the problems associated with oral communications handed down through successive generations. Just as with Jesus and Muhammad, there are no writings attributed to Buddha, and we are forced to try and puzzle together an origin story well after the fact with conflicting information from these much later texts and traditions. Because of this, not only is it difficult to know what Buddha actually taught, advocated, or believed in his lifetime vs. aspects of Buddhism which were added on later by others, it is difficult to know details about his life that are accurate vs. what was later made up or became legend. In fact, as with Jesus, it is even possible that Buddha didn't exist at all and the whole story is a legend. However, most assume the story was at least based on an actual person even if his story was altered and embellished over time.
As Wikipedia says: "The details of Buddha's life are mentioned in many early Buddhist texts but are inconsistent, his social background and life details are difficult to prove, the precise dates uncertain." Various traditions place Buddha anywhere between the 19th Century BCE to the 4th Century BCE. Wikipedia places him somewhere between the 6th and 4th centuries BCE. [https://en.wikipedia.org/wiki/Buddhism] That's a pretty wide guesstimation for someone people claim to know even greater details about. In other words, people are assuming details of his life, sayings, and teachings without even knowing for sure what century he was born in.
According to Wikipedia, "The classification and nature of various doctrinal, philosophical or cultural facets or schools of Buddhism is vague and has been interpreted in many different ways, often due to the sheer number (perhaps thousands) of different sects, subsects, movements, etc. that have made up or currently make up the whole of Buddhist traditions." Because Buddhism emerged from Hinduism, it is likely some ideas and concepts from that tradition influenced—and were adopted by–Buddhism from the beginning, and it was later mixed with other traditions and beliefs as it spread, which is why there are thousands of sects and traditions in Buddhism today.
It seems unlikely we will ever be able to know what "original" Buddhism looked like beyond reasonable disputes, and claims about what may be "essential" to Buddhism are problematic. People who talk about what Buddhism is or isn't without qualification have probably never studied it, have only studied one tradition, or are assuming things about it from what they've heard or seen without examining it much further. I will only be able to cover some of it superficially here, but hopefully enough to make some of the points I'd like to make about it.
I will attempt to show that there are supernatural traditions in Buddhism (including deities), that the westernized form is only one tradition (which may be just as problematic as any other), and that there are some concepts and practices that are also problematic (some of which have similarities to Christianity and other religions).
Supernatural Traditions
While it seems to be the case that Buddhism rejects the idea of a creator deity, many of the traditions and sects have various kinds of demi-gods, spirit deities, wrathful deities, and other supernatural characters (e.g.: hungry ghosts). Some even worship the Buddha as a deity.
Here are just a few examples:
"The term Brahmā in Buddhism refers to the leading god, but in some Suttas the term broadly refers to all beings (deities) who live in heavenly realms. Ancient and medieval Buddhist texts define seventeen, or more, heavenly Brahmā realms (along with demi-gods, hungry ghost and hellish realms), in a stratified manner, which are reached in afterlife based on monastic achievement and karma accumulation. A brahma in these texts refers to any deva in the heavenly realms. The Buddhist god Brahmā himself resides in the highest of the seventeen realms, called the Akanistha." [https://en.wikipedia.org/wiki/Brahm%C4%81_(Buddhism)]
"A deva in Buddhism is one of many different types of non-human beings who share the godlike characteristics of being more powerful, longer-lived, and, in general, much happier than humans, although the same level of veneration is not paid to them as to buddhas." [https://en.wikipedia.org/wiki/Deva_(Buddhism)]
Other supernatural traditions apart from supernatural beings include—but are not limited to–the idea of heavenly and hellish realms (as noted above); the idea of an afterlife—or multiple lives through reincarnation or rebirth–which also implies the concept of a supernatural something that is being reborn (Buddhists reject the idea of a "self" or "soul," but they disagree on what it is that is being reborn); and the concept of some kind of supernatural "karma."
While some of these supernatural elements in various traditions of Buddhism may have been later additions or "corruptions" of whatever was "original"–and I'm sure that some can successfully argue that some most certainly were—it doesn't appear possible that anyone can honestly say with any certainty that there were no supernatural elements in its original form, or to know for sure what the original form might have been. In fact, it seems almost certain there were at least some supernatural elements even in its earliest formations.
Just as in other religions, the various sects may dispute with each other over different interpretations, as well as what aspects of Buddhism are best, essential, or original. And just as in other religions, there may be disputes regarding what parts should be viewed as metaphorical or allegorical vs. what should be taken literally.
"Western" Buddhism
It seems that the more recent "western" forms of Buddhism have attempted to strip out as many of the supernatural elements as possible from the various eastern traditions. It seems these western forms are attempting to build a more "rational" or "intellectual" form of Buddhism, which they like to suggest is closer to the "original" or "essential" Buddhism, but which may never have existed in reality. They do this by selecting (cherry-picking) only the Buddhist texts and practices which might be more appealing to modern "Western Culture," and by disregarding as much of the rest as possible to try to make it into a respectable philosophy of life. In many respects it reminds me of those Christians who argue that Christianity is a philosophy and not a religion. And just as in other religions, the difficult or problematic elements are either ignored or they become metaphors, just like some Christians who argue that some problematic parts of the Bible shouldn't be taken literally (e.g.: the 6 day creation story, Adam & Eve, etc.).
They have been successful enough with these efforts that it has drawn in many in the secular community… even to the point that some vague western form of Buddhism is all many seem to know about, and others make assertions about Buddhism (e.g.: "Buddhism is atheistic," "Buddhism doesn't have gods," "Buddhism is a philosophy," etc., etc.) without any qualification about what type, form, or sect of Buddhism they are talking about.
How successful different versions or sects might be in stripping out various supernatural elements and/or making it more "rational" or appealing may vary depending on which version one picks. The concept of some sort of supernatural karma seems like it may be the most difficult to dispense with, but I'm sure some may have. Additionally, some may cherry-pick their own personal version of Buddhism that they think best suits them and then they may become a kind of superficial or weekend pseudo-Buddhist. They may just be a fan of some of the "philosophy" and/or enjoy the meditation, for example. But even this may be problematic as I'll try to cover below.
Considering that "Scholars are hesitant to make unqualified claims about the historical facts of the Buddha's life" and "No written records about Gautama were found from his lifetime or some centuries thereafter" and "The sources for the life of Siddhārtha Gautama are a variety of different, and sometimes conflicting, traditional biographies." And also taking into account such things considered "essential to Buddhism" such as "The Four Noble Truths" and "The Noble Eightfold Path" are thought to be "later developments," saying that this or that aspect of Buddhism is or isn't "essential" or "original" when no one knows exactly what he was teaching hundreds of years before it was written down, sounds like a bit of a stretch to me. [https://en.wikipedia.org/wiki/Gautama_Buddha]
Some Problematic Concepts & Practices
One of the concepts that can be found in Christianity is the idea that everyone is a "born sinner," that we are born with a flaw or defect, that there is something inherently wrong with us, and that the Christian religion provides the only "cure" through Jesus and his supposed teachings.
The concept of karma in many traditions of Buddhism suggests that if we are miserable or suffering in this life, it may be some kind of justifiable consequence for something either done by us in this life or in some previous life, and Buddhism is the "cure" through Buddha's supposed teachings.
I imagine it may be just as psychologically harmful for some people to have the idea that whatever suffering they might be going through is always justified because it's their own flaw or fault (i.e.: karma) as it might be for others to be told they are "born sinners" or born flawed, and that any suffering is a test from God or the result of turning away from God (as some Christians have it).
There is also a similar idea in both Christianity and Buddhism that the things of this material and sensual world can pose a danger and should be avoided to attain a better state in heaven or nirvana.
According to Wikipedia, "The Four Noble Truths refer to and express the basic orientation of Buddhism in a short expression: we crave and cling to impermanent states and things, which are dukkha, 'incapable of satisfying' and painful. This craving keeps us caught in samsara, the endless cycle of repeated rebirth and dying again, and the dukkha that comes with it. There is, however, a way to end this cycle, namely by attaining nirvana, cessation of craving, whereafter rebirth and associated dukkha will no longer arise again. This can be accomplished by following the eightfold path, restraining oneself, cultivating discipline, and practicing mindfulness and meditation." [https://en.wikipedia.org/wiki/Four_Noble_Truths]
And, "The Eightfold Path consists of eight practices: right view, right resolve, right speech, right conduct, right livelihood, right effort, right mindfulness, and right "samadhi" (meditative absorption or union)."
Elaborating further on the "Noble Eightfold Path," we find ideas like:
"Right View: our actions have consequences; death is not the end, and our actions and beliefs have also consequences after death; the Buddha followed and taught a successful path out of this world and the other world (heaven and underworld/hell)….
"Right Resolve: the giving up home and adopting the life of a religious mendicant in order to follow the path….
"Right Conduct: no killing or injuring, no taking what is not given, no sexual acts….
"Right Livelihood: beg to feed, only possessing what is essential to sustain life…."
…and so on. [https://en.wikipedia.org/wiki/Noble_Eightfold_Path]
Of course there are various traditions and interpretations depending on which tradition or interpretation of Buddhism you want to look at or discuss (for example, the Chinese and Pali canons have a tenfold path instead of an eightfold one). But the basic idea seems to be a suggestion to turn away from (or renunciate ) the "impermanent states and things" in this world because they cause "craving and clinging," which results in pain and suffering.
You can find the same kinds of ideas in other religions. There are dozens–if not hundreds—of examples from the Bible….
"Do not accumulate for yourselves treasures on earth, where moth and rust destroy and where thieves break in and steal." – Matthew 6:19
"Keep your mind on things above, not on worldly things." — Colossians 3:2
"…abstain from fleshly lusts which wage war against the soul." –1 Peter 2:11
"For everything in the world—the lust of the flesh, the lust of the eyes, and the pride of life—comes not from the Father but from the world." –1 John 2:16
"Don't love this evil world or the things in it. If you love the world, you do not have the love of the Father in you. This is all there is in the world: wanting to please our sinful selves, wanting the sinful things we see, and being too proud of what we have. But none of these comes from the Father. They come from the world." –1 John 2:15-16
Other examples can be found in James 1:13-15, 2 Peter 1:4, 2 Timothy 2:4, Colossians 3:5, Galatians 5:16-21, Titus 2:12, and so on and on.
As Jesus supposedly said (according to John 18:36), "my kingdom is not of this world."
In Buddhist cosmology, there are the six "Realms of existence." [http://en.wikipedia.org/wiki/Sa%E1%B9%83s%C4%81ra_(Buddhism)#Realms_of_existence]  While Humans are supposedly in one of the higher realms, the whole point of Buddhism is to advance beyond that, beyond the pain and suffering of the endless cycle of "samsara" or "the beginningless and endless cycle of rebirths throughout the six realms; the confused state of suffering from which Buddhists seek liberation" or "the worldly realm of suffering; conditioned existence" (that's two definitions among many).
"Nekkhamma is a Pali word generally translated as 'renunciation' or 'the pleasure of renunciation' while also conveying more specifically 'giving up the world and leading a holy life' or 'freedom from lust, craving and desires.'  In Buddhism's Noble Eightfold Path, nekkhamma is the first practice associated with 'Right Intention.' In the Theravada list of ten perfections, nekkhamma is the third practice of 'perfection.' It involves non-attachment (detachment).
–snip—
"The entire course of practice from start to finish can in fact be seen as an evolving process of renunciation culminating in Nibbana [Pali; Skt: Nirvana] as the ultimate stage of relinquishment, 'the relinquishing of all foundations of existence' (sabb'upadhipatinissagga)." [http://en.wikipedia.org/wiki/Nekkhamma]
"Dukkha (Sanskrit duhkha) or dissatisfaction (or 'dis-ease'; also often translated 'suffering', though this is somewhat misleading). Nothing found in the physical world or even the psychological realm can bring lasting deep satisfaction." [http://en.wikipedia.org/wiki/Three_marks_of_existence]
Also, in the Mahayana tradition, for example, they have the "Five paths." The "path of accumulation" includes "Renunciation of the worldly life." The path of seeing includes "Realization of the emptiness of reality."
"The goal of all Buddhists is to reach Nirvana. Death, for a Buddhist, is not the end.  Buddhists believe in re-birth. To attain Nirvana, we must break the cycle of birth and rebirth, which is only possible when a person is free from ignorance, hatred and greed. Buddhists believe that everyone can reach enlightenment. However, many young boys and girls train to be monks and nuns from an early age.
"They willingly give up all material possessions except the following eight objects:
robes
a bowl to receive alms
a belt
a razor
a needle and a ball of thread
a water filter
a walking stick
a tooth pick" [http://library.thinkquest.org/07aug/00117/buddhism.html]
Some of the most serious Buddhists become "monks or nuns," giving up material possessions to focus on attaining nirvana.
There is this idea in many religions—if not most or all—that we are somehow inherently flawed and this world is flawed, and that we should try to avoid the material or the sensual to focus on the spiritual in hopes of being liberated from this life into some better one, that life in this world is something to be escaped or liberated from. This concept gives some people the idea that suffering in this world is inevitable, so it's something to be accepted rather than addressed.
One thing I've somewhat glossed over is the Buddhist concept of the self or soul which Buddhism rejects. This may be surprising considering the concept of an afterlife or rebirth into this realm or some other one in Buddhism would seem to imply a belief in one. It would seem to be problematic. What exactly is being reborn? Of course, as you might expect, there are different explanations in different traditions. Rather than try to parse through what different traditions believe gets reborn into different realms, I'd like to just touch on what the nirvana objective is supposed to be….
According to Wikipedia, "The state of nirvana is also described in Buddhism as cessation of all afflictions, cessation of all actions, cessation of rebirths and suffering that are a consequence of afflictions and actions. Liberation is described as identical to anatta (anatman, non-self, lack of any self). In Buddhism, liberation is achieved when all things and beings are understood to be with no Self. Nirvana is also described as identical to achieving sunyata (emptiness), where there is no essence or fundamental nature in anything, and everything is empty."[https://en.wikipedia.org/wiki/Nirvana]
So, in addition to the idea of being liberated from the material world, there is supposed to be a liberation from the self as well. Focusing on the selflessness of the world is supposed to be helpful in causing Buddhists to act more selflessly and easing the fears of death….
Here are the results of two surveys on the subject:
"In short, the no-self doctrine, rather than equipping the Tibetan lamas with serenity regarding end of life, seems to provoke a deep-rooted anxiety of self-annihilation, and does nothing to reduce overall fear of death.
"In another survey, we gave participants a tradeoff task to measure generosity in end-of-life decisions. Imagine, we said, that you have a terminal disease that will kill you in six months unless you take a medication. There is only one dose of the medication available. If you take it, it will prolong your life by six months. If you don't take the medication, it will go to someone else who has the same condition and, like you, will die in six months. If the medicine would prolong his life by twelve months instead of six, would you still take the medicine? What about two years? How much more life would the stranger have to receive before you would give up your medicine?
"What we found surprised us. While Abrahamic and Hindu populations chose to give their medicine away when the stranger would live an additional couple of years, Buddhists were exceedingly reluctant to give their medicine away under any circumstances. If there is a ceiling on how much Buddhists value their lives over others, we never found it. Our scale only went up to 'more than five years'—more than 70 percent of Buddhists selected this option.
"Much of Buddhist philosophy and religious practice is aimed at cultivating selflessness, rechanneling concerns to the larger moral universe around us. But we did not find this effect in our studies. Ironically, it seems that these teachings, instead of mitigating fear of death and nurturing generosity, engender some of the behaviors and thought patterns they seek to destroy. These effects are especially strong among monastics who have the deepest understanding of these doctrines. They are the most fearful of self-annihilation, and the least generous with their lives." [http://www.slate.com/bigideas/is-there-life-after-death/essays-and-opinions/buddhism-and-the-loss-of-self]
Even the Buddhist seemingly beneficial or innocuous practice of meditation seems to be problematic for some people….
"Research on meditation suggests how variable its effects can be. Meditation reportedly reduces stress, anxiety and depression, but it has been linked to increased negative emotions, too. Some studies indicate that meditation makes you hyper-sensitive to external stimuli; others reveal the opposite effect. Brain scans do not yield consistent results, either. For every report of heightened neural activity in the frontal cortex and decreased activity in the left parietal lobe, there exists a contrary result." [https://blogs.scientificamerican.com/cross-check/why-i-dont-dig-buddhism/]
Conclusion
As an atheist (i.e.: without a belief in a God or gods), I find whatever supernatural claims there are in Buddhism just as absent of any empirical evidence to support them as in any other religion. It has contradicting origin stories, sects, texts, and traditions just like many other religions. It has some differences, but it also has many similarities with both eastern and western religions. I find the attempt to westernize it by making it more palatable or "rational" for a western audience–with claims about what is or isn't "essential" or "original"—to be misinformed (or arrogant) and problematic. They are not much different than competing sects of Christianity who claim their version is closer to the truth, or how some want to sell or repackage Christianity as a philosophy rather than a religion. While Buddhism may promote some positive things, other religions can make the same claim. And while it may be better than the Abrahamic religions in some respects, I'd suggest a Humanist philosophy of life is even better without the woo, bullshit, and religious baggage (IMO).
Finally, I find problems with some of its concepts and practices (or "philosophy"). While those may vary from sect to sect and person to person, there seems to be some basic or general implications that are contrary to—or seem to be in competition with–human flourishing, enjoyment, and appreciation for our life in this world (which is the only life we know we have). It seems some of its practices—like meditation–may have varying and opposite results depending on the individual (and are therefore problematic), that some of its ideas may be psychologically harmful, that some may be a disincentive to focus on making this world a better place, and that some may create a "deep-rooted anxiety of self-annihilation" and selfishness in at least some of those who seriously practice it.
There may be some sects of Buddhism somewhere that are entirely free of all the problems I cite here (though, I'm not aware of them), and, just like in other religions, some may say it works for them. That may be great for them, but it's not for me.
I want to live in the here and now, and I enjoy trying to have a close, personal relationship with reality… to whatever extent it can be determined by empirical evidence. I have human goals and desires for making THIS world a better place, not escaping or being "liberated" from it. I accept—and maybe even need—the pain and suffering insomuch as it gives me motivation to combat it and make things better, or to whatever extent it helps me to appreciate the joys in life to an even greater degree.
As an atheist, I accept my own "self-annihilation" when I die. Death is what makes every moment in life more precious and valuable. I'd rather embrace life, and enjoy as much of it as I can in the sort time I'm here, living in–and focusing all my attention on–this world to make the best I can of it.