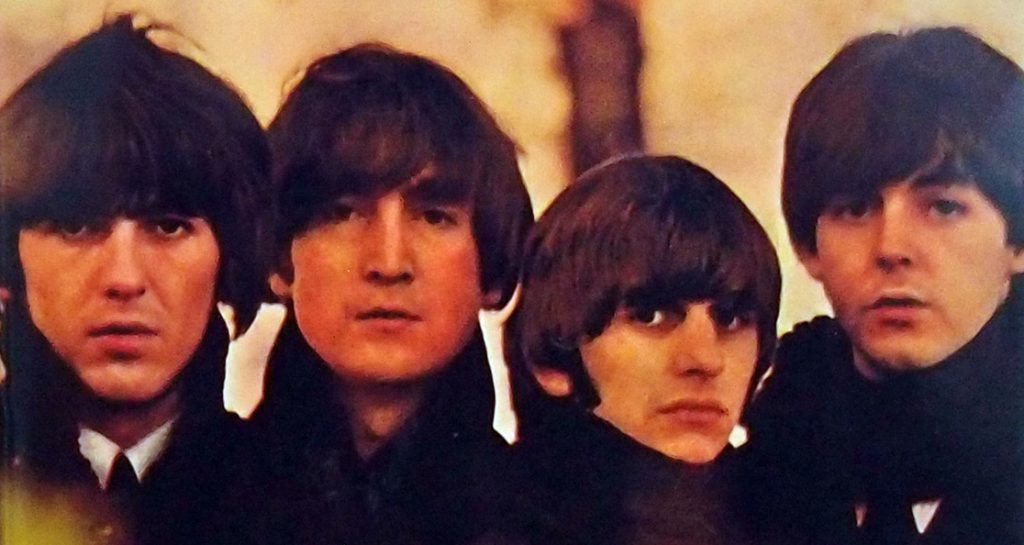 This is a selection of quotes I've collected over the years. I expect to add to it over time.
Impact on Music
"[The Beatles] almost single-handedly rescued the Western musical system."
— Howard Goodall, music composer named "Composer of the Year" at the 2009 Classical BRIT Awards
"The impact of the Beatles – not only on rock & roll but on all of Western culture – is simply incalculable … [A]s personalities, they defined and incarnated '60s style: smart, idealistic, playful, irreverent, eclectic…. [N]o group has so radically transformed the sound and significance of rock & roll. … [they] proved that rock & roll could embrace a limitless variety of harmonies, structures, and sounds; virtually every rock experiment has some precedent on Beatles record."
–Rolling Stone
"In their initial incarnation as cheerful, wisecracking moptops, the Fab Four revolutionised the sound, style, and attitude of popular music and opened rock and roll's doors to a tidal wave of British rock acts. Their initial impact would have been enough to establish the Beatles as one of their era's most influential cultural forces, but they didn't stop there. Although their initial style was a highly original, irresistibly catchy synthesis of early American rock and roll and R&B, the Beatles spent the rest of the 1960s expanding rock's stylistic frontiers, consistently staking out new musical territory on each release. The band's increasingly sophisticated experimentation encompassed a variety of genres, including folk-rock, country, psychedelia, and baroque pop, without sacrificing the effortless mass appeal of their early work."
–Icons of Rock: An Encyclopedia of the Legends Who Changed Music Forever by Scott Schinder and Andy Schwart
"The Beatles were an English rock band that formed in Liverpool in 1960. With members John Lennon, Paul McCartney, George Harrison and Ringo Starr, they became widely regarded as the greatest and most influential act of the rock era.
"The Beatles are the best-selling band in history, with estimated sales of over 600 million records worldwide. They have had more number-one albums on the British charts and sold more singles in the UK than any other act. According to the RIAA, the Beatles are also the best-selling music artists in the United States, with 178 million certified units. In 2008, the group topped Billboard magazine's list of the all-time most successful "Hot 100" artists; as of 2017, they hold the record for most number-one hits on the Hot 100 chart with twenty. They have received ten Grammy Awards, an Academy Award for Best Original Song Score and fifteen Ivor Novello Awards. The group was inducted into the Rock and Roll Hall of Fame in 1988, and all four were inducted individually from 1994 to 2015. They were also collectively included in Time magazine's compilation of the twentieth century's 100 most influential people."
-Wikipedia
Impact on the Soviet Union
"More than any ideology, more than any religion, more than Vietnam or any war or nuclear bomb, the single most important reason for the diffusion of the Cold War was … the Beatles."
–Mikhail Gorbachev, former President of the Soviet Union
"The West spent millions on undermining communism but it had much less impact than The Beatles. The Beatles, Paul, John, George and Ringo have done more for the fall of Communism than any other western institution. They alienated a whole generation of young, well-educated, urban Soviet kids from their communist motherland."
–Artemy Troitsky, Russian journalist/music critic
"The Beatles had this tremendous impact on Soviet kids. The Soviet authorities thought of The Beatles as a secret Cold War weapon. The kids lost their interest in all Soviet unshakeable dogmas and ideals, and stopped thinking of an English-speaking person as an enemy. That's when the Communists lost two generations of young people. That was an incredible impact."
–Dr Yury Pelyoshonok, Soviet Studies professor
"It sounds ridiculous but it's not. I'm convinced the Beatles are partly responsible for the fall of Communism."
–Milos Forman, Czech film director/screenwriter/actor/professor
"[The Beatles brought] a taste of freedom, a window on the world"
–Vladimir Putin, President of the Russian Federation
"The Beatles promoted a cultural revolution in the former Soviet Union that played a part in the demolition of communism in that part of the world,"
–Leslie Woodhead, British Cold War spy
Impact on Other Musicians
"We were driving through Colorado, we had the radio on, and eight of the Top 10 songs were Beatles songs…'I Wanna Hold Your Hand,' all those early ones. They were doing things nobody was doing. Their chords were outrageous, just outrageous, and their harmonies made it all valid… I knew they were pointing the direction of where music had to go."
–Bob Dylan
"This was different, shifted the lay of the land. Four guys, playing and singing, writing their own material … Rock 'n' roll came to my house where there seemed to be no way out … and opened up a whole world of possibilities."
–Bruce Springsteen
"It was just magic – it was like being hit by a bolt of lightning. I even remember where I was and what I was doing. I was walking down the road in Aston one day, with my light blue transistor radio, and this song came on. I thought, 'What the f**k is that?'
"It changed my life forever, and at that point I knew what I wanted to do with my life. I never knew it would turn out the way it did – it turned out way bigger than my wildest expectations – but I knew that I wanted to be the singer in a band."
"The Greatest Band To Ever Walk The Earth!"
–Ozzy Osbourne, Black Sabbath
"If it hadn't been for The Beatles, there wouldn't be anyone like us around."
–Jimmy Page, Led Zeppelin
"There's no outdoing The Beatles."
"Sgt. Pepper's Lonely Hearts Club Band is probably the greatest single album I ever heard."
"the Beatles ultimately "eclipsed a lot [of what] we'd worked for … [they] eclipsed the whole music world."
–Brian Wilson, the Beach Boys
"The Beatles were in a different stratosphere, a different planet to the rest of us. All I know is when I heard 'Love Me Do' on the radio, I remember walking down the street and knowing my life was going to be completely different now the Beatles were in it."
–Justin Hayward, The Moody Blues
"Probably my two biggest musical influences were the Everly Brothers and the Beatles, in chronological order. Both of them have had a very simple-sounding musical style that's actually quite complex as far as popular songs are concerned."
–Arlo Guthrie
"My favorite artists have always been Elvis and The Beatles and they still are!"
–Johnny Ramone, the Ramones
"I don't think anybody comes close to The Beatles, including Oasis."
–Brian May, Queen
"The minute I saw The Beatles on The Ed Sullivan Show — and it's true of thousands of guys — there was the way out. There was the way to do it. You get your friends and you're a self-contained unit. And you make the music. And it looked like so much fun. It was something I identified with. I had never been hugely into sports. … I had been a big fan of Elvis. But I really saw in The Beatles that here's something I could do. I knew I could do it. It wasn't long before there were groups springing up in garages all over the place. "
–Tom Petty
"That one performance changed my life … Up to that moment I'd never considered playing rock as a career. And when I saw four guys who didn't look like they'd come out of the Hollywood star mill, who played their own songs and instruments, and especially because you could see this look in John Lennon's face — and he looked like he was always saying: 'F— you!' — I said: 'I know these guys, I can relate to these guys, I am these guys.' This is what I'm going to do — play in a rock band'."
–Billy Joel
"I took one look on the Ed Sullivan Show and it was 'Fuck school. This makes it.' I memorized every Beatles song and went to Shea Stadium and screamed right along with all those chicks."
–Joe Walsh, The Eagles/James Gang
"The Beatles were the first to actually find that middle path between the artistic and the intellectual, and at the same time still be on the street."
–Keith Richards, The Rolling Stones
"The four-headed monster."
"They gave us our first big hit in England, which was a song they wrote "I Wanna Be Your Man." And we were very grateful for that because it really broke us in England."
"Their success in America broke down a lot of doors that helped everyone else from England that followed, and I thank them very much for all those things."
–Mick Jagger, The Rolling Stones
"When The Beatles arrived, from then on, a thousand different things arose."
–Peter Townshend, The Who
"A big influence was seeing the Beatles on Ed Sullivan. They were a quartet and we said, wow, we can do that. If these guys from England can come out and play rock 'n' roll, we can do it … We bought Beatle wigs. We went to the drama store, and I guess they were Three Stooges wigs at that time."
–Doug Clifford, Creedence Clearwater Revival
"The lightning bolt came out of the heavens and struck Ann and me the first time we saw the Beatles on 'The Ed Sullivan Show.' … There'd been so much anticipation and hype about the Beatles that it was a huge event, like the lunar landing: that was the moment Ann and I heard the call to become rock musicians. I was seven or eight at the time. … Right away, we started doing air guitar shows in the living room, faking English accents, and studying all the fanzines."
–Nancy Wilson, Heart
"There is no way I'd be doing what I do now if it wasn't for the Beatles. I was watching 'The Ed Sullivan Show' and I saw them. Those skinny little boys, kind of androgynous, with long hair like girls. It blew me away that these four boys [from] the middle of nowhere could make that music."
"The Beatles were a band, of course, and I loved their music. But they were also a cultural force that made it OK to be different. They didn't look like everyone else, and they still made the girls scream."
–Gene Simmons, Kiss
"The night The Beatles first played The Ed Sullivan Show, boy, that was something. Seeing them on TV was akin to a national holiday. Talk about an event. I never saw guys looking so cool. I had already heard some of their songs on the radio, but I wasn't prepared by how powerful and totally mesmerizing they were to watch. It changed me completely. I knew something was different in the world that night."
–Joe Perry, Aerosmith
"One of my earliest memories was sitting cross-legged on the floor in the living room of the house I grew up in and looking up at the black-and-white TV set and watching the Beatles on The Ed Sullivan Show. I was five years old and I remember thinking, 'Wow! That's what I want to do.' I know it sounds absurd — most five-year-old boys say they want to be firemen or policemen or baseball players, or even the president. Not me. I wanted to be one of The Beatles.
–Richie Sambora, Bon Jovi
"After the Ed Sullivan Show, Feb. 9, 1964, at approx. 8:04pm, after that moment every album, every guitar, every set of drums that was ever sold … 10% should have gone right into their pocket!"
–George Thorogood
"The Beatles were formative in my upbringing, my education. They came from a very similar background: the industrial towns in England, working class; they wrote their own songs, conquered the world. That was the blueprint for lots of other British kids to try to do the same."
"I think The Beatles are the reason I'm a musician."
–Sting, the Police
"John Lennon has been my idol all my life."
–Kurt Cobain, Nirvana
"There's a big jump from 'I Wanna Hold Your Hand' to 'was she told when she was young that pain would lead to pleasure.'"
"Michael Jackson can sell records until the end of time, but he'll never matter to people as much as The Beatles did. Every record was a shock when it came out. Every single was an event."
–Elvis Costello, Elvis Costello & the Attractions
"The Beatles were the ON switch to my life. I can't even put into words the impact they had on my seven year-old soul. It is almost 50 years ago I saw them on Ed Sullivan and this was the music that changed my life. I got a copy of Meet the Beatles and a guitar for my seventh birthday, and the guitar has been welded to me ever since. I was drawn to the sound of the guitars and the songs and the vocals, the way they looked and how they acted…well really everything about them! It was pure magic to me. I learned to play to those records, and like all the people my age that play music , we all wanted to be the Beatles. I think the Beatles are my generation's classical music, and as time has shown, they still are our musical gold standard. John, Paul, George, and Ringo changed the entire planet like no one ever will again! They are and always will be the greatest band of all time."
–Steve Luthaker, Toto
"The British Invasion changed everything musically and culturally. Like a "big bang" there was a before and an after. Ideas changed, music changed, society changed, and the impact of The Beatles alone will keep fans and historians busy forever. A defining moment in the 20th Century that continues to resonate, and will continue strongly for all time."
–Todd Sucherman, Styx
"From one generation to the next, The Beatles will remain the most important rock band of all time."
"The Beatles are the foundation of everything we do."
"If it weren't for The Beatles, I would not be a musician."
–Dave Grohl, Foo Fighters
"They completely turned the world upside down."
–Phil Collins, Genesis
"The greatest rock band of all time. Nobody even comes into the same planetary system in terms of songwriting and presentation. They never repeated themselves. They kept going from strength to strength."
–Lemmy Kilmister, Motorhead
"Then my mother gave me a copy of "Let it Be" by the Beatles. It was all over after that. I bought every Beatles album and every album by anyone who hung out with the Beatles- The Stones, The Kinks, The Who, etc. I went through the British Invasion about 20 years too late."
–Miles Zuniga, Fastball
"Everybody was influenced by somebody, but I think everybody was influenced by The Beatles."
–Alice Cooper
"I fell in love with music through The Beatles. I still think there has never been a band as good as them."
–Adam Levine, Maroon 5
"They were a great influence on us because they were songwriters. They broke a lot of rules and they created an artistic credibility in the pop music business which had never been there before."
–Robin Gibb, the Bee Gees
"The Beatles showed up with their great sense of humor, their completely infectious pop songs, their "Woooo!" you know, their everything. It was impossible not to fall in love with them."
–Susanna Hoffs, The Bangles
"I do remember actually learning chords to Beatles songs. I thought they were great songwriters."
–Mick Taylor, Rolling Stones
"I liked the Beatles because there was so much melody."
–Robert Cray
"The Beatles just changed the whole world of music."
"The big turning point, really, was the Beatles' influence on American folk music, and then Roger took it to the next step, and then along came the Lovin' Spoonful and everybody else."
–Barry McGuire
"That's my No. 1 biggest influence. If you're a rock musician and you say you don't like The Beatles, then you're a jerk. You're just trying to be cool, but you're really not. You can't deny The Beatles."
–Jana Peri
"You know, I was such a big Beatles fan, and when I'd buy a new album I'd invariably hate it the first time I heard it 'cause it was a mixture of absolute joy and absolute frustration. I couldn't grasp what they'd done, and I'd hate myself for that."
–Andy Partridge, XTC
"And I said, 'Why not? It's the truth! Why can't I say I'm a Beatles fan?' I used to get criticized for that."
–Buck Owens, musician/singer/songwriter
"When I was a kid, I went through a lot of musical phases, and one was when I'd learn everything that The Beatles ever recorded. After I started drums, I fell in love with their music so much that I just wanted to learn everything."
–Eric Carr, KISS
"You can't love music without loving the Beatles."
–Nick Cannon, rapper
"The first time I heard 'You Really Got a Hold On Me' by The Beatles, I was very, very, very happy. The Beatles chose one of my songs! And they wrote great songs!"
–Smokey Robinson
"All Beatles, all the time. They were the cornerstone."
–Jeff Murphy, The Shoes
"From 1962 to 1965, the guitar became this icon of youth culture, thanks mostly to the Beatles."
–Pat Metheny, jazz guitarist/composer
"I just got into the Beatles a couple years ago, you know, I like it."
–Ziggy Marley, Ziggy Marley and the Melody Makers
"So whenever I hear The Beatles I always feel I've got a lot in common with everybody else."
–Robyn Hitchcock, singer/songwriter
"If Elvis was the first wave of mega-fandom, then The Beatles just sort of blew that out the water."
–Questlove, musician/producer
"Almost everything The Beatles did was great, and it's hard to improve on. They were our Bach. The way to get around it may be to keep it as simple as possible."
–T-Bone Burnett, musician/songwriter/record producer
"I honestly think that there are certain things in life that help people understand themselves. I think The Beatles are one of those things. They resonate the journey of true selfhood, really."
–Sophie B. Hawkins, singer/songwriter/musician
"There was so much excitement for music at the time, and much of it had to do with the Beatles. The Beatles inspired probably more bands than we will ever know, and they certainly inspired me."
–Curtis Remington
"I love the Beatles. What more can I say? I'm not gonna lie to you. I love 'em. They make me happy. And I think they were the best, and still are."
–Liam Gallagher, Oasis
"I remember exactly where I was sitting. It was amazing. It was like the axis shifted … It was kind of like an alien invasion."
–Chrissie Hynde, The Pretenders
"The British invasion was the most important event of my life. I was in New Jersey and the night I saw the Beatles changed everything. I had seen Elvis before and he had done nothing for me, but these guys were in a band."
"This was the main event of my life. It was certainly the major event for many others, whether or not they knew it at the time. For me, it was no less dramatic than aliens landing on the planet. … There's no equivalent of that today, TV shows that literally everybody watched. All ages, all ethnic groups, all in black and white on a 14-inch screen. … It was their sound, their looks, their attitudes. It was so many things. A time to look at things differently, question things a little bit. All kinds of things were new."
–Steven Van Zandt, Bruce Springsteen & the E Street Band
"It was like aliens landed. Look at that and look on how they act and they — wow."
–Micky Dolenz, The Monkees
Impact on Others
"The Beatles were like aliens dropped into the United States of 1964."
–Todd Leopold, CNN
"I say in speeches that a plausible mission of artists is to make people appreciate being alive at least a little bit. I am then asked if I know of any artists who pulled that off. I reply, 'The Beatles did.'"
–Kurt Vonnegut
"My model for business is the Beatles. They were four guys who kept each other's negative tendencies in check. They balanced each other and the total was greater than the sum parts. And that's how I see business. Great things in business are never done by one person, they are done by a team of people."
–Steve Jobs, Apple Computer
"When The Beatles came around everybody freaked. They just loved the look. It revolutionized how people dressed. It triggered in my mind to start a business."
–Tommy Hilfiger, fashion designer
"That's when the world turned. That's when we escaped from the doldrums and moved on to a brighter, better, more joyful future…. Every record was an event, every cut was an opera, the entire story told ours."
"It was like hearing the future."
–Tom Hanks
"They blew the walls down for everybody else."
–Barack Obama
"The Beatles were my favorite group. This is the nearest I will ever get to being a Beatle."
–J.K. Rowling, author
"When I was living on North Ninth Street in Milwaukee, Wisconsin, in a two-room flat, on welfare, the only decoration in a room I shared with a half brother and sister were Beatles posters."
"When I was a little colored girl, honest to goodness, I was the biggest Beatles fan."
–Oprah Winfery, talk show host
"I'd never seen anybody that looked like them. It was like a revelation. And when you're a little kid, you don't know it's a revelation, but it was like the whole world lit up. Suddenly I felt like I could be friends with them… and I'm black! I never thought of them as white guys. They were The Beatles. They were colorless, you know, and they were fucking amazing! The Beatles gave me this idea that everybody was welcome. If you weren't the hippest kid in the neighborhood, it didn't matter because you could be a Beatles fan, and I liked that. And that sort of carried me into these older days where it's like I am my own person. I can look the way I want, I can be the way I want, and it's okay. And I got that specifically from them."
–Whoopi Goldberg, actress
"Growing up, I liked all the stuff that everyone else was listening to, like Motown, but the biggest group of all was The Beatles."
"I love the Beatles."
–Eddie Murphy, actor, comedian
"I lived in the projects in Brooklyn, you know, in a black community, and The Beatles were everywhere. It wasn't like this was a white phenomenon. They were everywhere."
–Nelson George, author
"In Las Vegas I advised them that the Jacksonville Gator Bowl–one of the biggest stadiums in America–would be segregated. To a man, they argued against it. They said they weren't going to do it. There were 19 days of negotiations. Eventually the Jacksonville Gator Bowl was desegregated for the first time."
"The people who ran the Gator Bowl integrated for the first time ever, which from my historical perspective and study ended all that in most of the big stadiums in the south."
–Larry Kane, WFUN
"I was 15, living in segregation. It was an apartheid that's probably difficult for a lot of people to even picture. The only white person I would even have contact with was a salesman who would come into the community. I was ripe for something different, I think, by the time I heard that The Beatles were coming to town. It was my first concert, and I went by myself. The only catch in my breath that I got was when I went to my seat, and there were all those other people around me. And I still can feel that to this day, that there were all these white people around. But I was standing up with everybody, and then just yelling as loud as I could and singing along. That was the first experience I had where it was possible to be around people who were different and, at least for a while, those differences could disappear."
–Dr. Kitty Oliver, historian
"The whole thing of The Beatles was they made life more fun."
–Eric Idle, Monty Python
"Their songs are in my memory banks. I think they're actually in my genetic material."
–Robin Williams, comedian/actor
"I wasn't a fan until I listened to the White Album and became an instant convert."
–Steven Spielberg, Film maker
"The Beatles created something that never trailed off. What a gift that was to their fans. If you're into the Beatles, you loved them from beginning to end."
"Whenever a Beatles song comes on the radio, I reach for the volume and turn it up, because I still haven't gotten enough of them."
–Jerry Seinfeld, comedian
"The Beatles originality, passion, and virtuosity, remain undiminished, if not enhanced."
"It was the great musical adventure of the 20th Century."
–Alec Baldwin, actor
"I like the Beatles. They're at the core of my musicality. And John Lennon's my spiritual father."
–Esai Morales, actor
"The greatest rock band ever, ever! They built a great reservoir of melody and poetry which we're still drawing on today."
–Victor Spinetti, actor
"They were always original, and that's thing that comes across from the beginning to the end. These people thought differently from everybody else, and that's why they made it to the very top."
–Mark Lewisohn, author
"I felt as much as a girl can feel. I was in love with John…. It was this sense of world music, that we were loving them all over the world."
"We belonged to them and they belonged to us, and it was so meaningful to us, you know. It just gets me excited just thinking about it."
–Sigourney Weaver, actress
"My big love was the Beatles. I was more into music."
–Gary Oldman, actor/filmmaker/musician/author
"Even at all my mother's concerts, I had never seen people go crazy the way they did with the Beatles."
–Lorna Luft, daughter of Judy Garland
"Lennon and McCartney were superb composers – their songs were brilliant and remain brilliant."
–Martin Goldsmith, author
"Artists who broke through the constraints of their time period to come up with something that was unique and original … in the form of popular music, no one will ever be more revolutionary, more creative and more distinctive. They not only sparked the British Invasion of the US, they became a globally influential phenomenon as well."
–Robert Greenfield, former Rolling Stone associate editor
"I declare that the Beatles are mutants. Prototypes of evolutionary agents sent by God, endowed with a mysterious power to create a new human species, a young race of laughing freemen."
–Timothy Leary, psychologist
"When The Beatles did the Sullivan Show, everything at the radio station changed. There were no more requests other than The Beatles."
–Bob Eubanks, radio DJ/concert promoter
"The city has never experienced the excitement stirred by these youngsters from Liverpool called The Beatles."
"The Beatles first appeared on our show on February 9, 1964, and I have never seen any scenes to compare with the bedlam that was occasioned by their debut. Broadway was jammed with people for almost eight blocks. They screamed, yelled, and stopped traffic. It was indescribable … There has never been anything like it in show business, and the New York City police were very happy it didn't – and wouldn't – happen again."
–Ed Sullivan, host of The Ed Sullivan Show
"Over 55,000 people saw the Beatles at Shea Stadium. We took $304,000 – the greatest gross ever in the history of show business!"
–Sid Bernstein, music producer/promoter
"This is the greatest phenomenon in the century thus far."
"I quickly sensed that the band represented the biggest cultural shift in generations, and maybe ever."
"Let me explain to you the type of feeling that you get after 15 performances watching The Beatles in action and watching the crowd. It's a chilling feeling inside because you know you are experiencing a phenomenon that is the only one of its kind in the century thus far and will probably go down in history as the greatest show business example of music and admiration in many, many hundreds of years."
"None of the police in any of these cities were prepared for this. Nobody is prepared for this."
–Larry Kane, WFUN
"They've all seen crowds before. They all say we know our own people, we know the police potential, and we'll be able to handle it, but what they've never seen is a Beatle crowd. This is the biggest thing that's ever happened, no question about it. It's like nothing before. it's not like Presley, it's not like Sinatra, it's not like the late president Kennedy… it's The Beatles and they are without precedent."
–Derek Tylor, press agent
"We've never seen anything like this before, ever. Never. Not even for kings and queens."
–Unnamed airport official
Pre-fame Beatles Quotes
"It was like a merry-go-round in my head, they looked absolutely astonishing … My whole life changed in a couple of minutes!"
"All I wanted was to be with them and to know them."
–Astrid Kirchherr
"I was top of the bill and wearing a white suit. The boys [the Flamingos] are wearing purple suits. We're doing The Shadows and all that and the girls are screaming. These guys came walking in, they all had leather and black polo necks and John Lennon had big rips in his jeans. I thought, good God, what's this? They're going to ruin everything – the state of them! John Lennon hit his amplifier with a hammer, Paul put on a solid red Rosetti guitar with three strings on it, not even plugged in.
"No stage clothes, just this scruffy, stinky, smelly group. All of a sudden I heard this voice, 'Oh, my soul! Baby, baby, baby.' Paul just ripped it out. My fans came screaming from one end of Litherland town hall [Merseyside, England] to the other to watch them. Usually all the girls tried to talk to me, but I was completely ignored! Beatles, oh man, I was sick."
–Faron Ruffley, Faron's Flamingos
"Paul and George would come from next door in their school uniforms and all they could talk about was chords and guitars and music. They were sitting around this pile of chips and they'd start playing and strumming, and I would sit down and the hairs would stand up on the back of my neck when I heard the voices – the three of them, you know, at the age of 16, 17, 18. It was amazing!"
–Cynthia Lennon
"Don't you think that the Beatles gave every sodden thing they've got to be the Beatles? That took a whole section of our youth – that whole period – when everybody else was just goofin' off we were workin' 24 hours a day!"
–John Lennon
"The Beatles saved the world from boredom."
–George Harrison
More
"From a standing start, knowing only a handful of chords between them, John Lennon and Paul McCartney turned themselves into the most influential composers of the late twentieth century. Their music wasn't just immensely popular. It also proved that traditional western harmony – the main building block of European music – still had plenty to offer. (Even though avant-garde composers had turned their back on it.) By mixing pop and classical techniques, and cross-fertilising them with Indian, and electronic music, The Beatles refreshed and revitalised western harmony. They also transformed the recording studio from a dull box where you recaptured your live sound, into a musical laboratory, of exciting and completely new sounds. This was one of the most crucial advances in the way popular music was to be produced. But Lennon & McCartney didn't just influence all popular music that followed them. They influenced classical music too. The leading classical composers of our own era have turned back to traditional harmony. More than anyone, Lennon & McCartney prefigured this trend. They showed that the old musical forms could be refashioned and refreshed, to make music that was both exciting and popular, and sophisticated and new. They, more than anyone, saved the western musical tradition from extinction, and gave it a new purpose and a direction. Not bad going for two boys who met at a local church fete and taught themselves their instruments."
–Howard Goodall, music composer named "Composer of the Year" at the 2009 Classical BRIT Awards
Their musical innovations and commercial success inspired musicians worldwide. Many artists have acknowledged the Beatles' influence and enjoyed chart success with covers of their songs. On radio, their arrival marked the beginning of a new era; in 1968 the programme director of New York's WABC radio station forbade his DJs from playing any "pre-Beatles" music, marking the defining line of what would be considered oldies on American radio. They helped to redefine the album as something more than just a few hits padded out with "filler", and they were primary innovators of the modern music video. The Shea Stadium show with which they opened their 1965 North American tour attracted an estimated 55,600 people, then the largest audience in concert history; Spitz describes the event as a "major breakthrough … a giant step toward reshaping the concert business". Emulation of their clothing and especially their hairstyles, which became a mark of rebellion, had a global impact on fashion.
According to Gould, the Beatles changed the way people listened to popular music and experienced its role in their lives. From what began as the Beatlemania fad, the group's popularity grew into what was seen as an embodiment of sociocultural movements of the decade. As icons of the 1960s counterculture, Gould continues, they became a catalyst for bohemianism and activism in various social and political arenas, fuelling movements such as women's liberation, gay liberation and environmentalism. According to Peter Lavezzoli, after the "more popular than Jesus" controversy in 1966, the Beatles felt considerable pressure to say the right things and "began a concerted effort to spread a message of wisdom and higher consciousness".
–Wikipedia
"So much has been said and written about the Beatles — and their story is so mythic in its sweep — that it's difficult to summarize their career without restating clichés that have already been digested by tens of millions of rock fans. To start with the obvious, they were the greatest and most influential act of the rock era, and introduced more innovations into popular music than any other rock band of the 20th century. Moreover, they were among the few artists of any discipline that were simultaneously the best at what they did and the most popular at what they did. Relentlessly imaginative and experimental, the Beatles grabbed hold of the international mass consciousness in 1964 and never let go for the next six years, always staying ahead of the pack in terms of creativity but never losing their ability to communicate their increasingly sophisticated ideas to a mass audience. Their supremacy as rock icons remains unchallenged to this day, decades after their breakup in 1970.
"It's hard to convey the scope of the Beatles' achievements in a mere paragraph or two. They synthesized all that was good about early rock & roll, and changed it into something original and even more exciting. They established the prototype for the self-contained rock group that wrote and performed its own material. As composers, their craft and melodic inventiveness were second to none, and key to the evolution of rock from its blues/R&B-based forms into a style that was far more eclectic, but equally visceral. As singers, both John Lennon and Paul McCartney were among the best and most expressive vocalists in rock; the group's harmonies were intricate and exhilarating. As performers, they were (at least until touring had ground them down) exciting and photogenic; when they retreated into the studio, they were instrumental in pioneering advanced techniques and multi-layered arrangements. They were also the first British rock group to achieve worldwide prominence, launching a British Invasion that made rock truly an international phenomenon."
–Richie Unterberger, Allmusic.com
"The Beatles were an English rock band that became arguably the most successful act of the 20th century. They contributed to music, film, literature, art, and fashion, made a continuous impact on popular culture and the lifestyle of several generations. Their songs and images carrying powerful ideas of love, peace, help, and imagination evoked creativity and liberation that outperformed the rusty Soviet propaganda and contributed to breaking walls in the minds of millions, thus making impact on human history."
–IMDb
"The Beatles were an iconic rock group from Liverpool, England. They are frequently cited as the most commercially successful and critically acclaimed band in modern history, with innovative music, a cultural impact that helped define the 1960s and an enormous influence on music that is still felt today."
–Eventim