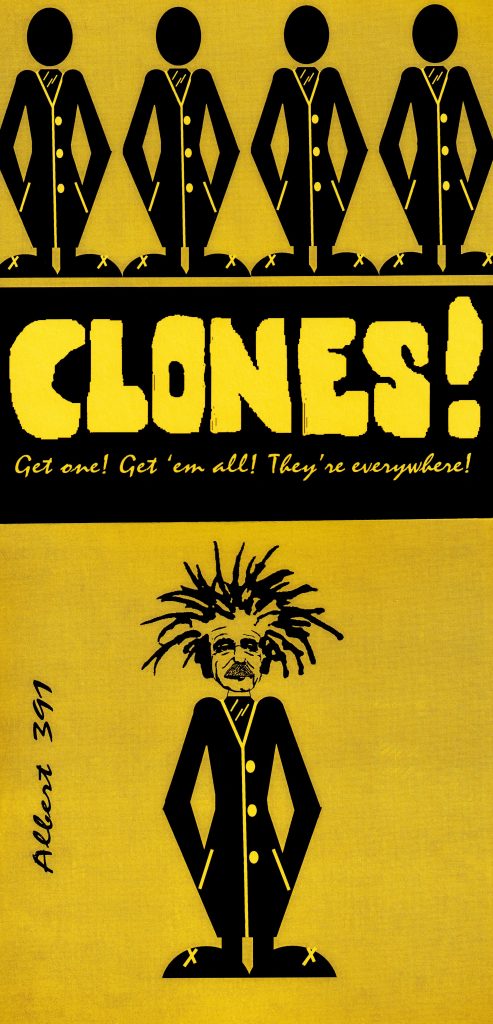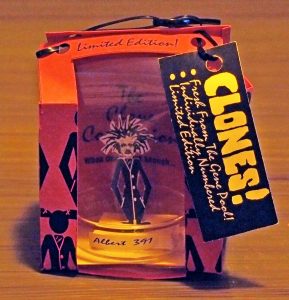 In the 1990s I had an idea to sell a collectible product called "Clones!" along with a little book called "The Clone Companion" (I'll not go into the details here). I discovered that I couldn't approach companies making toys or collectibles directly. I found I would have to go through an agent whose job it was to present these kinds of ideas to those companies. I found someone like that and sent him my idea with some mock-ups (pictured above). He sent it back and told me that my idea was more for the collectible market and he was more on the toy side of things. He told me the collectible market wasn't as good as it used to be and he wasn't very enthusiastic about my idea. I basically got rejected.
What follows is the contents of the little book I wanted to include with the product.
The Clone Companion
(when one is not enough…)
About Your New Clone
Your clone is fresh from the gene pool and individually numbered.
Get one! Get 'em all!! They're everywhere!!!
Clones don't like to be left alone! A lone clone may become down or depressed They thrive on the company of other clones. Like they say, "One is the loneliest number!"
Remember, you can't have too many clones! There's nothing sadder than a clone alone!
If you or your clone begin to experience deja vu, don't worry, that's normal!
Clones love to travel! Some of their favorite vacation spots include: New York, New York; Twin Falls, Idaho; or Dublin, Ireland.
Clones often quote others or repeat themselves. They are natural born copy cats who love repetition. Clones are very clever and can be quite mischievous. Don't let them give you any double talk and never…never leave them alone with a copier!
If you or your clone begin to experience deju vu, don't worry, that's normal!
Most clones are Geminis and may have a dual personality. Some are two-faced, but most are quietly reflective. They prefer being followers, (originality is not their strong point), so remember to set a good example. They are great imitators. They believe that imitation is the sincerest form of flattery.
Clones like puns, alliteration, and a good coincidence. They enjoy mime and mimicry and any matching games. Their hobbies include; multiplication, tracing, making paper dolls, and model making – especially models of replicas.
They are comforted looking in the mirror or at their own shadow and are easily excited by echoes.
Their idea of a good time is to put on some cha-cha music, eat bon-bons, and play duplicate bridge.
—
Clonisms
"WE'VE MET THE CLONE AND IT IS US!"
"TO CLONE OR NOT TO CLONE, THAT IS THE QUESTION"
"CLONE IT AGAIN, SAM"
"SEND IN THE CLONES!"
"ET TU CLONÉ?"
"I REGRET THAT I HAVE BUT ONE CLONE TO GIVE TO MY COUNTRY"
"CARPÉ CLONUM!"
"A CLONE BY ANY OTHER NAME WOULD SMELL AS SWEET"
"A CLONE IS A CLONE IS A CLONE"
"IF AT FIRST YOU DON'T SUCCEED…CLONE, CLONE AGAIN"
"ONE GOOD CLONE DESERVES ANOTHER"
"A CLONE IN THE HAND IS WORTH TWO IN THE BUSH"
"I NEVER MET A CLONE I DIDN'T LIKE"
"IT IS BETTER TO HAVE CLONED AND LOST THAN NEVER TO HAVE CLONED AT ALL"
"FRANKLY, MY DEAR, I DON'T HAVE A CLONE"
"MAY THE CLONES BE WITH YOU"
"I'LL GET YOU, MY PRETTY, AND YOUR LITTLE CLONE TOO"
"GO CLONE, YOUNG MAN"
"LOVE YOUR CLONE AS YOURSELF"
"ASK NOT WHAT YOUR CLONE CAN DO FOR YOU; ASK WHAT YOU CAN DO FOR YOUR CLONE"
"DON'T PUT ALL YOUR CLONES IN ONE BASKET"
"IF YOU CAN KEEP YOUR CLONE WHEN ALL ABOUT YOU ARE LOSING THEIRS…"
"ALL CLONES ARE EQUAL BUT SOME CLONES ARE MORE EQUAL THAN OTHERS"
"I DO NOT KNOW WHETHER I WAS THEN A MAN DREAMING I WAS A CLONE OR WHETHER I WAS A CLONE DREAMING I WAS A MAN"
"ICH BIN EIN CLONER"
—
March of the Clones
Clones, Clones, Clones, Clones
Clones, Clones, Clones, Clones
Clones, Clones, Clones, Clones
Clones, Clones, Clones, Clones
Clones, Clones, Clones, Clones
Clones, Clones, Clones, Clones
Clones, Clones, Clones, Clones
Clones, Clones, Clones, Clones
Clones, Clones, Clones, Clones
Clones, Clones, Clones, Clones
Clones, Clones, Clones, Clones
Clones, Clones, Clones, Clones
Clones, Clones, Clones, Clones
Clones, Clones, Clones, Clones
Clones, Clones, Clones, Clones
Clones, Clones, Clones, Clones
Clones, Clones, Clones, Clones
Clones, Clones, Clones, Clones
Clones, Clones, Clones, Clones
Clones, Clones, Clones, Clones
Clones, Clones, Clones, Clones
Clones, Clones, Clones, Clones
Clones, Clones, Clones, Clones
Clones, Clones, Clones, Clones
Clones, Clones, Clones, Clones
Clones, Clones, Clones, Clones
Clones, Clones, Clones, Clones
Clones, Clones, Clones, Clones
Clones, Clones, Clones, Clones
Clones, Clones, Clones, Clones
Clones, Clones, Clones, Clones
Clones, Clones, Clones, Clones
Clones, Clones, Clones, Clones
Clones, Clones, Clones, Clones
Clones, Clones, Clones, Clones
Clones, Clones, Clones, Clones
Clones, Clones, Clones, Clones
Clones, Clones, Clones, Clones
Clones, Clones, Clones, Clones
Clones, Clones, Clones, Clones
Clones, Clones, Clones, Clones
Clones, Clones, Clones, Clones
Clones, Clones, Clones, Clones
Clones, Clones, Clones, Clones
Clones, Clones, Clones, Clones
Clones, Clones, Clones, Clones
Clones, Clones, Clones, Clones
Clones, Clones, Clones, Clones
Clones, Clones, Clones, Clones
Clones, Clones, Clones, Clones
Clones, Clones, Clones, Clones
Clones, Clones, Clones, Clones
Clones, Clones, Clones, Clones
Clones, Clones, Clones, Clones
Clones, Clones, Clones, Clones
Clones, Clones, Clones, Clones
Clones, Clones, Clones, Clones
Clones, Clones, Clones, Clones
Clones, Clones, Clones, Clones
Clones, Clones, Clones, Clones
Clones, Clones, Clones, Clones
Clones, Clones, Clones, Clones
Clones, Clones, Clones, Clones
Clones, Clones, Clones, Clones
Clones, Clones, Clones, Clones
Clones, Clones, Clones, Clones
Clones, Clones, Clones, Clones
Clones, Clones, Clones, Clones
Clones, Clones, Clones, Clones
Clones, Clones, Clones, Clones
Clones, Clones, Clones, Clones
Clones, Clones, Clones, Clones
Clones, Clones, Clones, Clones
Clones, Clones, Clones, Clones
Clones, Clones, Clones, Clones
Clones, Clones, Clones, Clones
Clones, Clones, Clones, Clones
Clones, Clones, Clones, Clones
Clones, Clones, Clones, Clones
Clones, Clones, Clones, Clones
Clones, Clones, Clones, Clones
Clones, Clones, Clones, Clones
Clones, Clones, Clones, Clones
Clones, Clones, Clones, Clones
REPEAT